It's a little cold out there these days and what better way to get cosy than a big bowl of delicious chilli con carne? Packed with protein, nutrients and, more importantly, lots of flavour. Chilli is the ultimate comfort dish that doesn't have to overload on the calories. We've added an extra kick to our dish too by adding our tasty red chilli biltong – it goes super tender when cooked in dishes like this and provides an extra protein (and flavour) boost.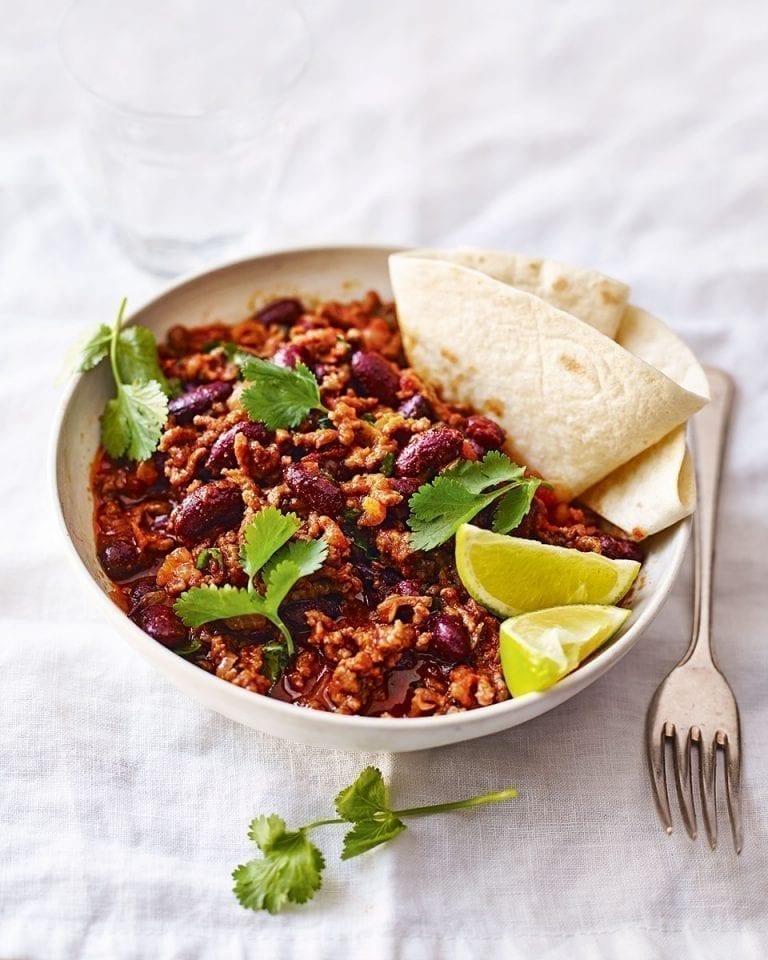 This chilli con carne recipe is perfect for a cold, wintery day for lunch or dinner or serve up to friends and family for a casual dinner party. This dish is easy to prep, easy to cook and disappears in seconds!
Try our Hearty Chilli Con Carne Recipe!
Serves 6
Ingredients
| | |
| --- | --- |
| 1 large onion | chopped |
| 1 red pepper | chopped |
| 1 pack of Stript Snacks | |
| 2 garlic cloves | finely chopped |
| 1 tbsp chilli powder | chopped |
| 1 tbsp paprika | |
| 1 tbsp cumin | |
| 500g lean minced beef | |
| 400g tin chopped tomatoes | |
| 2 tbsp tomato puree | |
| 410g tin kidney beans | |
Method
Put a 

pan on the hob over a medium heat

with a tbsp of oil. Add the onion for about 5 minutes, or until the onion is soft.
Add the garlic, red pepper, the chilli powder, paprika and the cumin.
Leave it to cook for another 5 minutes, stirring occasionally.
Cook off the beef. Turn the heat up and cook for 7 minutes.
Once the mince is cooked add the beef stock cube and 300ml hot water into the pan.
Add the tin of chopped tomatoes. Season with salt and pepper and stir in the tomato puree.
Simmer the mix gently. Bring the pan to the boil, give it a good stir and put a lid on the pan. Turn down the heat until it is gently bubbling and leave it for 20 minutes.
Stir the mix occasionally and, after 10 minutes, add the kidney beans and pack of beef biltong and stir in.
Cook for a further 10 minutes.